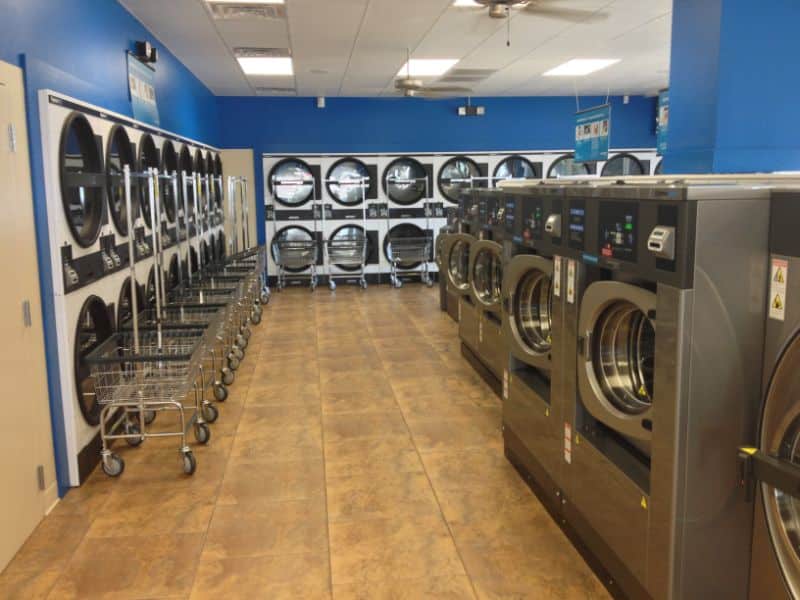 Product Brochures
High-Quality Vended Laundry for Laundromats
Ed Brown Distributors has been the leading provider of vended laundry machines for laundromats for over 80 years. Our team works hard to ensure that laundromats have efficient and reliable equipment so their customers can easily and efficiently clean their laundry.
Whether you are looking to increase efficiency with high-efficiency machines or for someone to help you design, sell, and install machines, our team can help. Ed Brown Distributors is proud to offer new layout design, installation, repair, and replacement services for all laundromats in North Texas, Arkansas, and Oklahoma.
Exceptional Laundromat Layout Designing Services
Efficiency and ease of access are key to a successful laundromat. After all, your customers want their laundry cleaned as quickly and thoroughly as possible. Our laundromat layout designing services can help make this happen.
We look at your available space and area's needs to decide which machines and layout will work best. Once you have approved a design, we can then install your high-efficiency machines and get your doors open.
Vended Laundry Equipment Installation Services for Laundromats
You want only the best for your business. This is why Ed Brown Distributors is proud to partner with some of the leading providers in the vended laundry industry, such as Fagor. Our team will sit down with you to figure out the best solutions for your business's needs from among our wide range of products. Here are some of our available options:
Front-Load High-Efficiency Washers: Our front-load high-efficiency washers offer a range of 200G to 450G force washing extraction. This reduces drying times and increases throughput, better protecting the laundry and allowing customers to get it done faster.
Top-Load Washers: Our top-load washers hold up to 27.3 gallons of water per load and have user-friendly features so your customers can better control each wash. With up to 710 RPMs, excess moisture is significantly reduced, speeding up drying.
Stackable Dryers: With oversized doors, stackable dryers save space and allow easier loading and unloading. This improves tumble action, decreases dry times, and leads to a quieter run cycle.
Vended Laundry Repair and Maintenance Services for Laundromats
Understandably, the vended laundry and dryers you choose for your laundromat will need tune ups and repairs from time to time. If your machines are not working up to caliber, rest assured that the team at Ed Brown Distributors will be there to help! We offer quick and reliable repair and maintenance services for vended laundry equipment, reducing downtime and ensuring that your laundromat is running to the best of its ability. 
Advanced Payment Solutions for Vended Laundry Machines
With the coin shortage in the United States, it's essential for your laundry machines to be adaptable. Our machines can be outfitted with both a coin operation or card payment system, providing your customers with multiple payment options.
Vended Laundry Solutions Specially Designed for Your Laundromat's Needs
Ed Brown Distributors works hard to ensure that your laundromat meets the needs of your customers. With performance in mind, all of our machines are guaranteed to pay for themselves and help your business grow. Plus, your customers will have plenty of options to choose from, including single- and multi-load washers, dryers, and stacks. Contact our team today for more information on our machines or to schedule an appointment with one of our vended laundry experts.