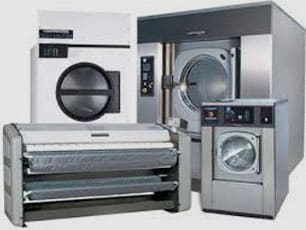 Product Brochures
On-Premise Laundry in North Texas and Oklahoma
From hotels to hospitals, schools to fire stations, many facilities rely on their On-Premise laundry equipment to ensure a successful workday and comfort of their guests. Ed Brown Distributors is proud to support and serve these businesses with all of their On-Premise laundry needs to ensure the care and comfort of our community. We can custom tailor our services to fit your needs.
From helping our customers select the proper equipment for their On-Premise laundry to helping maintain their equipment to ensure longevity and reliable operation, you can rely on our team to be there for you every step of the process. Here is more information on our On-Premise laundry services:
OPL Products and Installation Services
Whether you are looking for brand new equipment for your commercial building or you are looking to replace older, out-of-date equipment, Ed Brown Distributors can help you find the perfect fit for your business. We offer a wide range of products that help with energy efficiency and create a more efficient workflow for your laundry needs.
After choosing your On-Premise laundry equipment, Ed Brown Distributors experienced technicians will come in and install them. We take the time to plan the layout of the equipment to help optimize space and create a functional workstation to ease the workflow, leading to increased efficiency and production.
All of our products are backed by manufacturer warranties. For more information on our warranties or on our installation process, contact our team today!
Why Should I Choose On-Premise Laundry Equipment From Ed Brown Distributors?
When it comes to costs, the two largest expenses for commercial laundries are equipment and labor costs. Having reliable commercial washers and dryers, that are easy to operate, energy-efficient, and have greater throughput helps your business stay on schedule and can help cut down costs by as much as 55%. How is this done?
High-Speed Washer Extractors: Helps remove excess moisture from linens and clothing, protecting the material and leading to shorter dryer times.
Energy Efficiency; Cuts down on energy consumption, operating costs, and eliminates over drying of linen and towels which drastically decreases their life.
Faster Throughput: Larger and faster machines help increase the speed of production, helping your business cut down on labor costs. Additionally timed washing to start and finish before the first shift arrives increases productivity.
What Types of Businesses Can Benefit From OPL?
Wondering if your business might benefit from an On-Premise laundry equipment? Here is our list of businesses that we have helped over the years:
Hospitality OPL
Hotels, motels, resorts, and even restaurants can benefit from On-Premise laundry services. Ensuring that guests have clean sheets, clean napkins, and clean towels is a must for a comfortable visit.
Our cutting-edge technology can help your hospitality business get clean linens faster, decreasing labor costs and ensuring that your guests have what they need when they need them. The best part is our technology helps protect your business's linens, increasing their lifespan and keeping them feeling brand new.
HealthCare OPL
In the healthcare field, sanitation and cleanliness are of utmost importance. From hospitals to nursing homes, the laundry needs are ever-increasing, which means that they need reliable machines that can keep up the pace.
Ed Brown Distributors offers specialized laundry solutions to work with the busy and often hectic schedule of the medical field. Our machines are not only designed to increase performance, protect linens, and cut down on labor costs, but they are also designed to run quietly, cutting down on distractions and keeping the focus on the patients.
Athletics OPL
Ed Brown Distributors is proud to offer laundry solutions for professional, college, and high school athletic programs. We also offer services to health clubs, gyms, and other athletic organizations where having clean laundry, such as uniforms and towels, is paramount.
Tough stains, such as grass and sweat, do not stand a chance against our incredible commercial laundry equipment. Washer extractors help reduce moisture in the uniforms, protecting the graphics, such as numbers and team logos, and ensuring a fresh, clean, and comfortable uniform that looks brand new.
Fire Department and Government Agency OPL
Ed Brown Distributors proudly supports the firemen and county governments of the communities we serve in North Texas and Oklahoma. We work closely with these groups to determine which machines will best meet the needs of their staff and work around the clock to ensure that they are up and running. We have specific cleaning programs designed for fire departments.
Do You Need Commercial Laundry Solutions for Your Business?
The passionate team at Ed Brown Distributors is more than happy to help your business with all of your On-Premise laundry needs. From new On-Premise laundry installation to repair and maintenance services, you can trust that our team will be there for you. Contact us today for more information or to schedule our services.
Additional Resources: