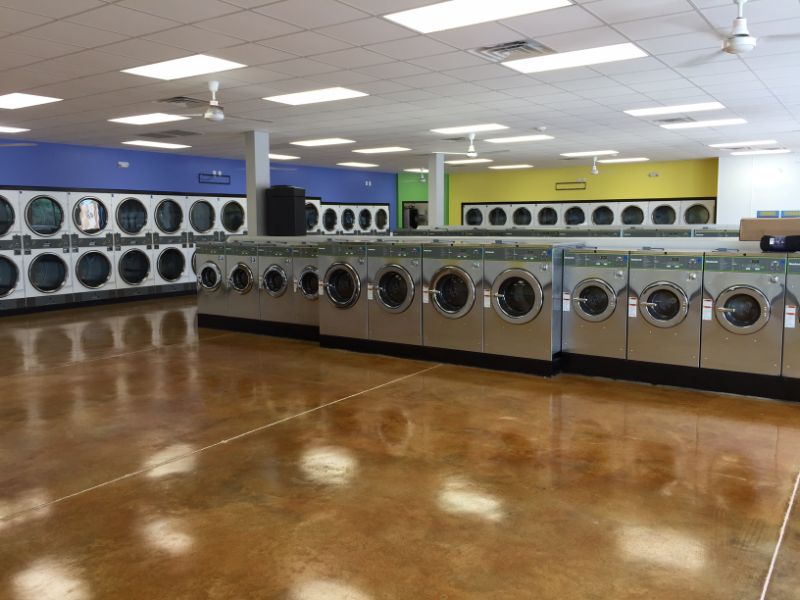 Laundry Design & Layout Services in North Texas, Arkansas, and Oklahoma
Regardless of whether you need an on-premise laundry solution for your business or you are looking to start your laundromat, one of the most crucial elements of these projects is the layout. Ed Brown Distributors has been the leading expert in the commercial laundry industry for the communities of North Texas, Arkansas, and Oklahoma. Our team takes the time to help you find the perfect machines for your business's needs and offers unparalleled laundry design and layout services. Here is more information on this essential part of your commercial laundry operation:
Laundry Design & Layout Services for On-Premise & Vended Laundry
When you are seeking to add a laundry room for your business, making sure the layout is conducive to an unhindered workflow can help ease the laundry process and reduce labor times. Our team always starts every laundry design & layout service by ensuring that we have a clear understanding of your business's needs. Whether you are looking to set up a laundry room for delicate articles of clothing such as bunker gear for firefighters or are in need of a smaller set-up for your veterinarian practice, we can help you create the best setup possible.
Our layout and design services are geared towards improving workflow efficiency and helping to cut down on frustration due to unwarranted breaks and pauses. We take into consideration how much linen is going to be processed and moved during the laundry process, the distance between washing and sorting stations, easy accessibility of the machine's doors, and the amount of equipment your business needs.
What Is the Best Location for My Laundry Equipment?
Typically, the ground floor of your building is the best option for your commercial laundry room. This makes the laundry room easier for both installation and daily access, and helps reduce maintenance costs.
However, Ed Brown Distributors understands that this may not be possible for every business, which is why we have thorough solutions to handle laundry units that need to be installed on higher floors.
Other considerations for the location of your laundry equipment are as follows:
Don't put your laundry room or laundry equipment near the main entrances of your building. This can lead your employees and consumers running into each other consistently and loud noises may turn consumers away from your business. It also forces dirty linens to pass through areas of heavy foot traffic.
Laundry areas need to be kept at a safe distance from food preparation areas.
What Type of Flooring Should I Use for my Commercial Laundry?
Your commercial laundry room is going to be a high-traffic area that calls for sturdy flooring. Along with a lot of foot traffic, the flooring needs to be able to handle constant vibrations and moisture changes. When considering material for your laundry room's flooring, you should make sure the material is rated for the following:
Skid and slip-resistant
Waterproof
Resistant to bleach, detergent, and other cleaning agents
Antimicrobial to cut down on the development of mold and bacteria
Should My Laundry Equipment Be Stacked?
Ed Brown Distributors starts every design process by getting a clear understanding of the space you have to work with and how much expected amount of laundry you will be working with. For smaller areas, stacked laundry equipment is a great way to save on space.
Stacked machinery is also great for laundromats and other vended laundry businesses, such as in dorms, hotels, and apartment complexes. This makes it easier to add in more machines, increasing the throughput and helping to reach more consumers faster.
Depending on your business's needs, our team will go over with you what type and how many machines will work for your space and business needs.
Safety Is Ed Brown Distributors's Top Priority
Many businesses focus on the efficiency of the workflow and how much linens can be processed during any amount of time. However, Ed Brown Distributors takes that one step further and focuses on the safety of your space. We always consider the following for each of our laundry room designs:
Electrical Needs: Commercial laundry machines generally use a 3-phase +N power source. This, however, can vary depending on the type of machine you are looking to use.
Type of Water for Your Area: Some areas are located in hard water areas, which can cause damage to machines. Ed Brown Distributors offers solutions to help soften cold water and minimize this damage.
Drainage Needs: Commercial laundry drains should be at least 100mm in diameter. The main drain or stub stack should be connected to foul channels to safely dispose of wastewater.
Ducting Needs: Your commercial laundry room should, ideally, have one external wall to allow for safe ducting to be installed for tumble dryers. The external wall should not be at the front of the building. This allows your dryer to remove the hot air, protecting your machines and significantly reducing the risk of fire.
Sorting and Storage Needs: It isn't only the machines that will be going into your laundry room. You may have other essential equipment such as folders, storage areas for chemicals, or sorting tables for linens. 
Lighting Needs: Your commercial laundry space needs to have adequate lighting to ensure that both your employees and any patrons can work, identify stains, and avoid trip-and-fall accidents.
Design Your Dream Commercial Laundry Room
Ed Brown Distributors takes the time to ensure that your commercial laundry layout design works the best it can for your space. We help you find the right machines to meet your business's laundry needs, offer installation services on those machines, and then can help ensure that they are maintained and running for years to come. Contact our team today about our commercial laundry layout and design services or to schedule an appointment.