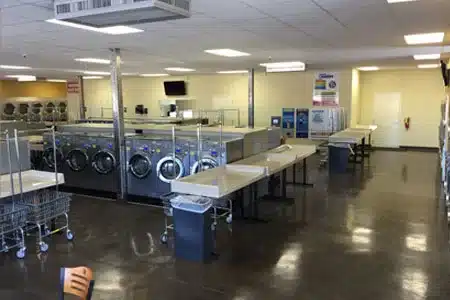 Product Brochures
Proudly family-owned and operated, Ed Brown Distributors has provided commercial businesses with On-Premise and Vended Laundry equipment, installation, and repair services since 1965. Our thorough On-Premise and vended laundry room design, installation, and repair services help ensure that the North Texas community has access to clean laundry. We supply our services across industries including hospitality, healthcare, athletics, schools and daycares, and more.
Contact Information for Ed Brown Distributors in North Texas
Ed Brown Distributors
Phone Number: (214) 352-9494
Address: 3236 Irving Blvd, Dallas, TX 75247
Hours of Operation:
Monday–Friday: 8 AM–4:30 PM
Saturday and Sunday: Closed
Services We Offer the North Texas Area
Vended Laundry
Through vended laundry, businesses can bring in extra revenue while providing the community with access to clean laundry. Vended laundry equipment is specially designed to help customers get their laundry done quickly and efficiently. Ed Brown Distributors proudly provides high-quality equipment that maximizes throughput and energy efficiency, allowing your business to see more guests at a lower cost.
We offer the following products for our vended laundry customers:
Front Load-High-Efficiency Washers
Top Load Washers
Stackable Dryers
On-Premise Laundry
Many facilities, including hotels, hospitals, schools, fire stations, and more, rely on On-Premise laundry equipment to ensure a successful workday and the comfort of their guests. We proudly supply these businesses with all of their On-Premise laundry needs for the care and comfort of our community.
Accessories
Ed Brown Distributors can help you find the right accessories for your On-Premise or vended laundry to ensure a smooth workflow. This includes a wide selection of commercial ironers, flatwork finishers, laundry furniture, carts, chemicals, and more.
Parts and Service
Proper service and OEM parts are the key to the longevity of your commercial laundry equipment. That's why we offer unparalleled maintenance and repair services for all commercial laundry equipment, whether we sold it to you or not. Contact our service team today for more information!
Service Areas in North Texas
Abilene
Wichita Falls
Amarillo
Tyler
Midland/Odessa
Sherman/Denison
College Station/Bryan
Texarkana
San Angelo
Ed Brown Distributors is proud to fulfill all of the On-Premise and Vended Laundry needs for the commercial businesses of North Texas. Contact us for more information or to schedule a consultation with our design team.