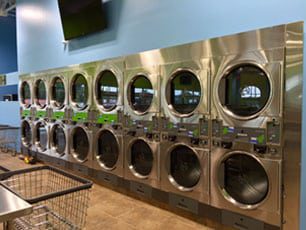 The History of Ed Brown Distributors
In 1929, Ed Brown founded a vending company known as Dallas Cigarette Service which later became Signature Services Corporation.  In 1965, a separate division known as Ed Brown Distributors was formed specializing in the sale and service of commercial laundry equipment.
Under the initial leadership of Chuck Brown, son of the founder, and Steve and Gary Brown, grandchildren of Ed Brown, Ed Brown Distributors has become a well-known name for the commercial laundry businesses throughout North Texas and Oklahoma. 
As a family-owned and operated business, Ed Brown Distributors has taken great strides to care for our clients and our staff. We offer unique programs to help members of our community, such as the J-1 Visa Program, which is a cultural exchange program that brings over foreign college students for a summer work-travel program through the U.S. Department of State.
Signature Services also offer a food service management division for schools, colleges, and camps. These programs are an important part of the Signature Services business as it helps us serve and give back to the people of their community.
Awards and Certifications for Ed Brown Distributors
Ed Brown Distributors is proud to have won the prestigious Laundry Equipment Distributor of the Year award several times. These awards were given based on achieving sales goals but also the commitment to service and excellence that is upheld by our staff.
All Ed Brown Distributor technicians have gone through extensive training through our suppliers on caring for, installing, and repairing commercial laundry equipment. Our team continues to go through ongoing training to ensure that they are keeping up with the latest developments in the industry.
This commitment to ongoing education ensures that our team serves our clients to the best of our ability and knowledge every time. This is also why Ed Brown Distributors is one of the most technologically advanced businesses in the commercial laundry industry.
Dedication, Service, and Open Communication
With 28 employees under our belt, our team at Ed Brown Distributors is more like family than staff. We are a tight-knit group that shares the passion of serving our community and customers as best we can. We offer personalized service for each call we get and are quick to respond when a service call comes in. Our business runs off the idea of "Do unto others as you would have them do unto you."
Information About Our Team Leaders
Gary Brown
Title:
Education and Training:

SMU Graduate and received an undergraduate degree and MBA

Interesting Facts:

Officially Joined Signature Services in 1980, after college, to perpetuate the family legacy and as a way to provide more opportunities for his work family
Loves to swim and run
Pilot
An active member of his church where he is a table leader for the High School Sunday School program
Grandson of the founder Ed Brown
Steve Brown
Title:
Education and Training:

Received an undergraduate degree at Stephen F Austin State University

Interesting Facts:

Joined the family business in 1990 after a career as a commercial pilot flying for Rio Airlines and other charter airlines
Active pilot and part owner of flying club
Active member in the church where he is actively involved in the broadcast production and streaming of the Sunday services
Grandson of the founder Ed Brown
For more information on our business or our services, please do not hesitate to contact our team!