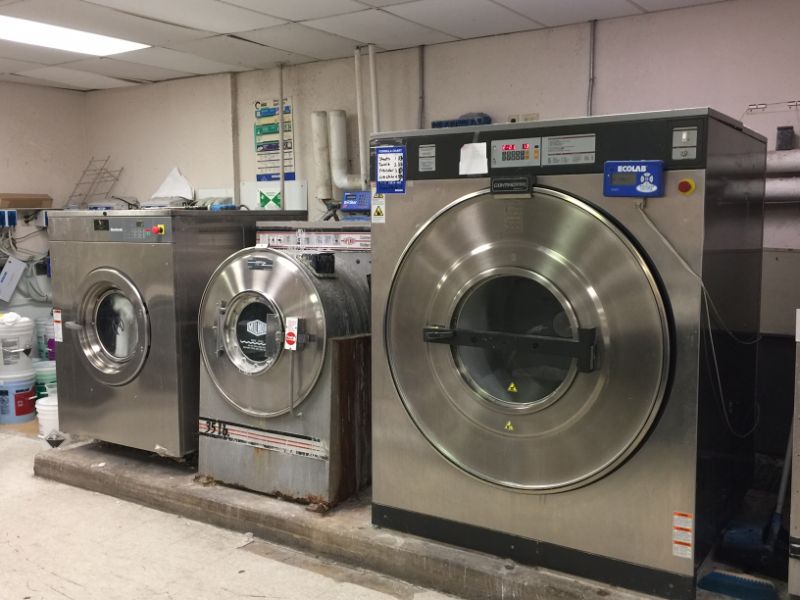 Ed Brown Distributors Frequently Asked Questions
As a family-owned and operated business, Ed Brown Distributors has made it our mission to ensure that all commercial businesses have access to the best on-premise and vended laundry solutions in the industry. Our team aids in not only the installation of these products, but in the design process of new on-premise or vended laundry layouts, maintenance and repair services, and ensuring that our clients are thoroughly stocked with what they need for success.
Our team receives a lot of questions about the products we sell and the services we offer for commercial laundry solutions. Our team has decided to take these questions and answer them all on this FAQ guide to give our clients and our community a better understanding of what our team does and how our services and products can serve your business. If you have any additional questions, please do not hesitate to contact our team!
What Brands of On-Premise and Vended Laundry Machines Do You Support?
Ed Brown Distributors is proud to be a certified distributor of FAGOR and Continental commercial washers & dryers. Both of these brands have set themselves apart with their high-quality and dependable machines that are designed with energy and water efficiency in mind.
My Commercial Building Is New; Can You Help Me Design My Laundry Space?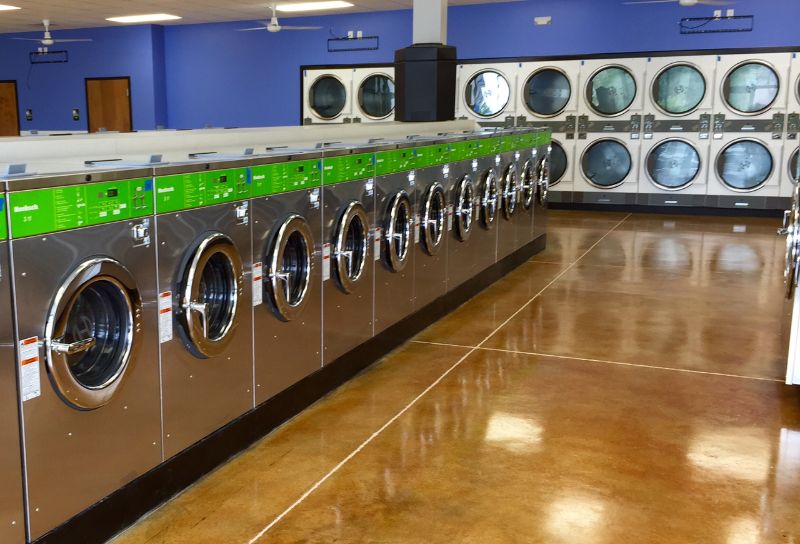 Yes! Ed Brown Distributors can help you design the perfect laundry room layout to meet your business's laundry needs. We start every design and layout process by getting a clear understanding of your business's laundry needs and the space you want your laundry room to be in. Then, we come up with the best plan to ensure an unhindered workflow. All of this is done to create a safe and productive environment that ensures ease of transition between each phase of the laundry process and reduces overall labor time.
I Want to Start My Own Laundromat; Can You Help Me Design/Get It Started?
Ed Brown Distributors is dedicated to ensuring that our communities are kept safe, sanitary, and healthy by helping new laundromat owners get their businesses off the ground. We can assist with every part of the process including but not limited to:
Developing a business plan
Financing
Determining the proper location for the laundromat
Choosing the right vended laundry room equipment
Setting the vending price
Developing a comprehensive marketing plan
Serving as a connection between the laundromat owners and the manufacturer should any concerns with the equipment arise
What Benefits Can I Expect From Opening a Laundromat?
Laundromats are a great choice for entrepreneurs looking to aid their community and receive a great return on their investment. Here are just a few benefits you can expect from opening a laundromat:
High success rate: Approximately 95% of entrepreneurs of laundromats see a return on their investment
Exceptional return on investment opportunities
Great work-life balance
Low inventory needs
Year-round business
Not dependent on weather
No franchise fees
Easy to manage
Recession-proof
Essential business
Flexible work schedule
Simple business model
Unlimited expansion potential
Added revenue streams available
What Type of Commercial Laundry Equipment Do I Need for My Laundromat?
A successful laundromat business should have a mix of high-quality and energy-efficient commercial laundry equipment. This should include the following machines:
Commercial washer extractors of various size capacities
Single tumble dryers in various size capacities
Hot water heating system
Laundry car payment system
Bill breaker
Change machine
Vending machines
Laundry carts
Folding tables
Seating
Ed Brown Distributors can help you to decide the number of machines and which specific equipment you need for your laundromat's location. Having a knowledgeable professional on your side to counsel you through the process can ensure that you see a return on your investment and that your laundromat's and customers' specific needs are met.
Can Ed Brown Help Me Modernize My Laundromat?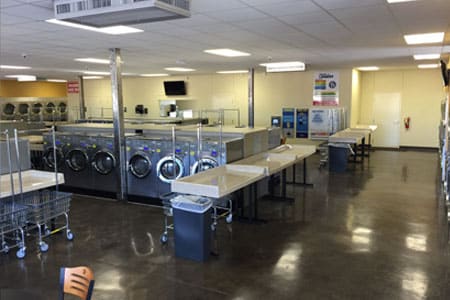 Yes! Ed Brown Distributors can help you revitalize your older laundromat by giving you a customized proposal detailing recommendations from our experts. Whether you need updated commercial laundry equipment, a layout redesign to improve the efficiency of your laundromat, or more modern conveniences such as machines that include a card payment system, we can help make it happen.
Can Ed Brown Distributors Help Me Find Vending Machines for My Vended Laundry Room?
Whether you are a multi-housing unit that has a vended laundry room for your residents or a laundromat, having vending machines available with refreshments or essential laundry equipment, such as softeners or dryer sheets, is a must. These vending machines can ensure that your consumers can get what they need, when they need it, all while continuing to support your business. Vending supplies you may want to consider include the following:
Laundry detergent vending
Laundry dryer sheet vending
Laundry softener vending
Snack machine
Drink vending machine
Does Ed Brown Distributors Offer Commercial Laundry Repair Services?
Ed Brown Distributor's technicians are trained and certified to work on a multitude of different commercial laundry equipment. We keep detailed maintenance records of all the machines we service to ensure that we can quickly diagnose recurring issues and provide insurance companies with historical maintenance records they need for claims.
What Is the Difference Between Dispenser and Manual Feed Laundry Chemicals?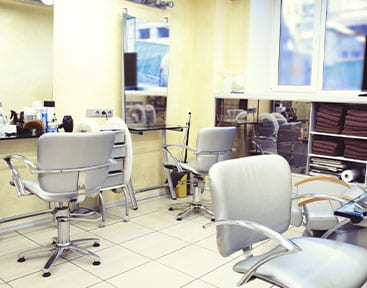 As with residential laundry detergents and chemicals, commercial laundry chemicals are manufactured and packaged differently. Some are designed to be used with manual feed machines while others are only for dispenser feed machines. There are also a select few that can be used with both types of machines. Here are the differences between these two types:
Manual feed laundry machines require the user/operator to manually measure out and insert the chemicals into the laundry machine. These are most often used in smaller hotels, motels, and smaller healthcare facilities.
Dispenser feed laundry machines receive their chemicals automatically during the washing cycle as they are portioned in doses. The built-in chemical delivery system on these machines help save time and money, and ensure that just the right amount of chemicals are being used, cutting down on waste. These types of dispensers are often found on large scale institutional machines, such as for correctional facilities, hotels, resorts, nursing homes, hospitals, and more.
What Are the Different Types of Commercial Laundry Detergent?
The primary agents for cleaning commercial laundry is available in three forms:
Liquid:

Can be used in both dispenser feed and manual feed machines
Concentrates great in all water temperatures
Can be a hassle to store
Not as cost effective as other options

Powder:

Can only be used in manual feed machines
Has a longer shelf life than liquid (allows business owners to buy in bulk)
Diluting with water first may be more cost effective than using liquid
Requires warm water to dissolve the powder

Solid:

Can only be used in dispenser feed machines
Goes straight from the package into the dispenser to eliminate accidental waste, mixing, and mishandling
There are other types of chemicals that can aid the laundry detergent in its job of neutralizing and eliminating stains, dirt, and while keeping linens fresher and brighter.
Pre Spotters are used to treat stubborn laundry stains before the normal laundering process.
Detergent Boosters are used in combination with detergent or water to break up heavily soiled loads while conditioning the water to maximize results.
Neutralizers are used to control the pH of the linen, minimizing potential skin irritation while also removing residual alkali and mineral deposits. This prevents yellowing and graying that's caused by high mineral levels in the water. Neutralizers are also known as souring agents.
Bleaches/Destainers are used for stains not removed during the normal wash cycle. They can also be used to whiten and brighten linens. There are two types of bleaches:

Chlorine Bleach is used for brightening white linens.
Oxygen Bleach is color-safe and can be used for almost all types of fabrics.

Fabric Softeners softens laundry while reducing static cling and wrinkles.
Ensure That Your On-Premise or Vended Laundry Is a Success
Ed Brown Distributors takes the time to ensure that your commercial laundry room, units, and layout works the best for your business's needs. Whether you are just opening your own laundromat or are a business looking to improve your on-premise laundry, we have the solutions for you! We offer only the best laundry units from the most renowned brands on the market, such as FAGOR. We also offer laundry unit repair and maintenance services to ensure that your units are running strong for years to come. Contact our team today for more information on our services or to schedule an appointment.