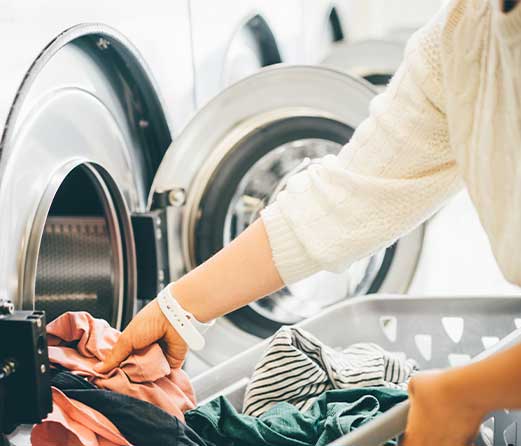 Product Brochures
Leaders In Innovation; Fagor Commercial Laundry Equipment
Ed Brown Distributors has been a leading distributor of Fagor laundry equipment for North Texas, Oklahoma, and Arkansas for years. We have built a solid working relationship with Fagor and are proud to be a distributor of these incredible machines. Fagor is known for its superior programming and innovation, which has brought this brand name high recognition in the commercial laundry industry and among its competitors.
With a wide range of professional laundry products that are designed to meet the needs of both small businesses and industrial laundries, Fagor has solutions for everyone. Fagor is competitively priced, has been designed with energy efficiency in mind, and has a sleek, modern look that adds a strong visual appeal to your machines.
History of Fagor
Fagor has been producing exceptional commercial appliances for over 60 years. While they specialize in appliances for the hotel and food industries, they have quickly become well known for their commercial washers and dryers within the last 40 years in Spain
Fagor has recently expanded its operation and distribution to the United States. While they are a new brand in the States, they have quickly made a strong name for themselves. Their machines offer robust performance, superior programming to help gear each wash or dry to that particular load of laundry, and reduced operating expenses to help businesses save money.
Fagor Products Offered Through Ed Brown Distributors
Fagor's Commercial Washers
Some of Fagor's commercial washers can produce one of the highest G-force spins on the market, helping to reduce residual moisture and leading to lower energy costs during the drying cycle. Here is what you can expect from a commercial washer from Fagor:
Smart System Controls
With the Touch Plus Control installed on every unit, Fagor's commercial washers offer better flexibility, giving full control to the user. It also has 29 pre-set programs that can be modified to your load's needs.
The smart controls add an extra layer of innovation for the commercial washers that will be used as vended machines. The screens can be programmed to show information on the times and the prices you have set for each wash. If you are looking to get sponsored by third parties, you can add advertisements from them as well, flashing across the screen during each cycle. This not only creates an attractive option for your vended laundry but also helps you make a bit more money on the side while promoting local businesses.
Largest Sized Doors on the Market
With large doors built on all of Fagor's commercial washers, each load and unload will be easy to facilitate.
Recirculating Water for Better Water Conservation
Fagor understands that many companies are taking a more serious approach to water conversation to better protect our environment. Fagor answers this call by installing a recirculating water kit into the tub of each commercial washer. This allows for the water to be recycled through the wash, helping to mix the cleaning/sanitizing chemicals better, quickly compacting clothing and reducing overall water usage. Once the load is done, the water drains out and the machine is ready for the next wash.
Smart Weighing System
With an automatic weighing system, the regulation of water and detergent will be based on the load entered. This provides considerable energy, water, and even chemical savings, allowing you to make the most out of each load of laundry.
Innovative Drum Design
One of the biggest advancements in Fagor commercial washers is the design of its drum. The drum has a series of perforations on the edges helping to reduce the space between the drum and the tank. This allows the washer to reduce the energy needed to heat the water while ensuring there isn't a surplus of chemical products in the washer.
Fagor's commercial washers come in three different types:
High Spin Washing Machines: Designed for laundries that prioritize labor, water and energy savings.
Fast Spin Washing Machines: Designed for laundries that need a competitive price point while not sacrificing performance.
Normal Spin Washing Machines: For laundries that need a washing machine that gets the job done at a high level of performance without the extra expense of the high-speed equipment.
Fagor's Commercial Dryers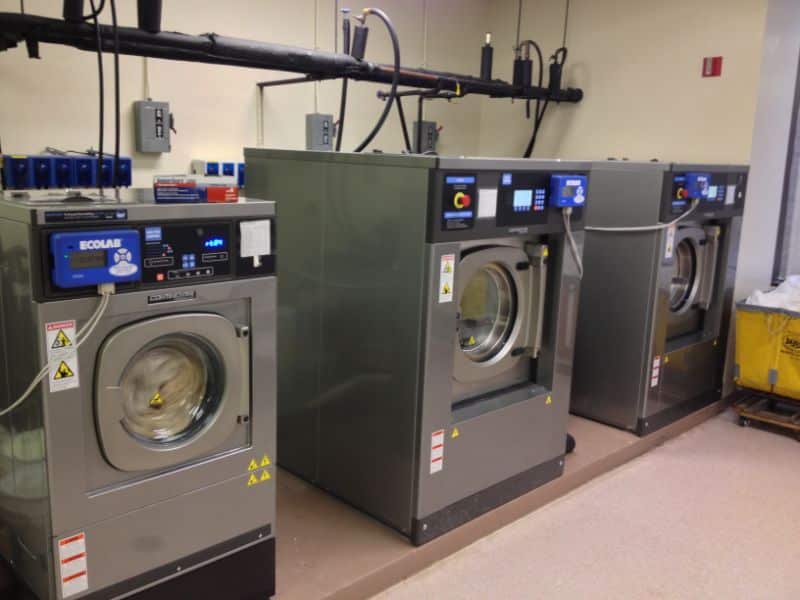 When it comes to energy efficiency, Fagor's commercial dryers are leading the way. Available in single drum dryers, stack dryers, or heat pump dryers, Fagor has a commercial dryer that can meet whatever needs your business has. Here is more information on these incredible machines:
Green Flow System©
Fagor's signature Green Flow System© has been installed on every commercial dryer. The Green Flow System© is a recirculation system that reintroduces the expelled hot air back into the drum. This allows for the hot air to be reused during the drying cycle, reducing energy consumption and helping you save money.
IDRY© Moisture Sensor
The IDRY© Moisture sensor constantly evaluates the load for moisture levels and temperature within the drum. This helps the dryer control the humidity to match what is needed for the clothes/linens that are being dried. Because of this detection, the dryer will stop as soon as there is no more moisture sensed within the clothes.
This prevents the dryer from running longer than it needs to, protects the clothes from being exposed to high temperatures for too long, and reduces energy consumption. This sensor is available on the Advance and standard models of commercial dryers.
Important Note: This option is only available on some models. Please ask one of our specialists for more information on which models include this incredible option!
Efficient Airflow
All of Fagor's commercial dryers are made with an ergonomic filter to catch lint and improve airflow. This helps protect your linens, reduces the risk of fire, and makes them easier to clean.
These are the different types of commercial dryers available from Fagor:
Advance +: These machines were designed with environmental awareness in mind. They run only as long as needed and with advanced features to make the most out of the air being used so that more energy isn't needed to finish the load. When tested, these dryers were shown to cut energy costs by 40%.
Advance: Efficient technology and advanced drying controls allow for this machine to self-diagnosis to help improve maintenance times.
Concept: Creating a nice balance between quality, performance, and price, the Concept line has easy controls that allow businesses to make the most out of each cycle.
Economic Line: This type of dryer was designed for those who need a more economic option without sacrificing quality. It has a strong performance but does not have as advanced features as the other commercial dryers.
Compact Washers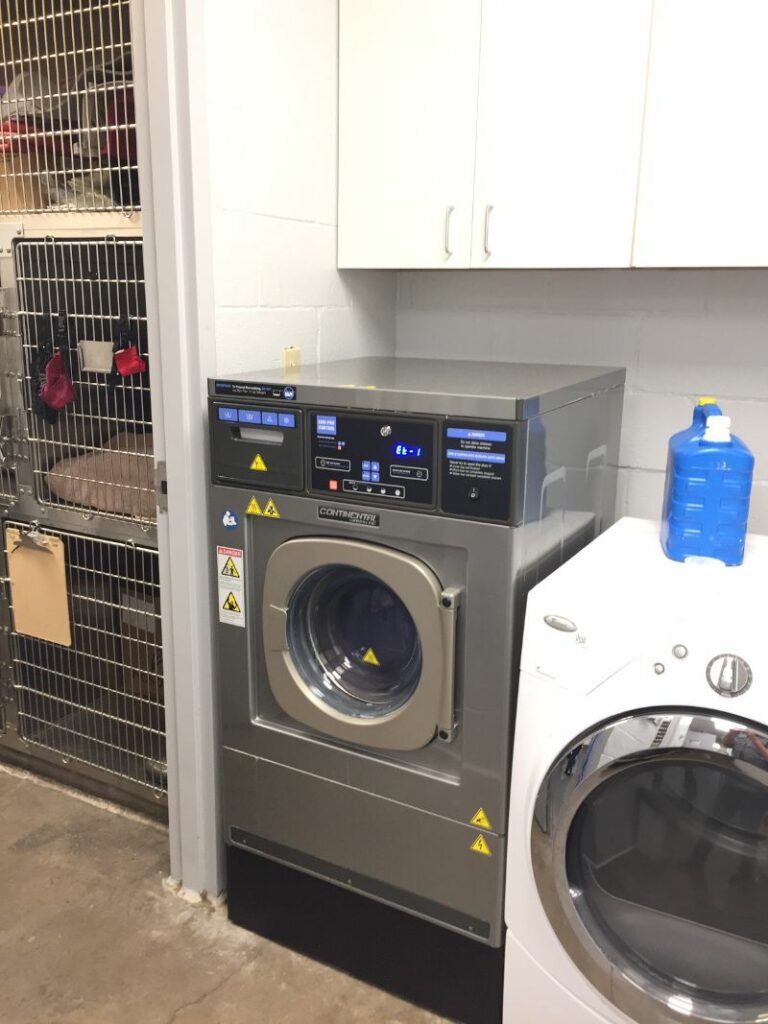 Fagor's compact washers offer high-performance washing capabilities that rival that of industrial laundry machines. They offer a wide range of features that allow small businesses to meet their laundry needs, protect their linens, and maximize energy, water, and labor efficiency.
Touch Control
Fagor's compact washers have a programmer with a TP2 touch screen. These screens are fully programmable, user-friendly, and very intuitive. They allow users to create an indefinite number of programs to meet their exact laundry needs. For those who are looking for a quicker option, there are also 26 pre-set settings all aimed at saving money and time while ensuring your linens are perfectly cleaned.
Wash Control
Software is available for you to manage your compact washer on the go. These programs can be uploaded to your pc and allow you to track your washer's cycle and get other information, such as energy and water usage.
Standard Traceability
These compact washers keep track of the temperature, water levels, and energy usage and store this information in the washing machine. This can then be exported to a PC through a USB flash drive.
Stainless Steel Skinplate Casing
The tank, drum, and paddles are made out of AISI 304 stainless steel. This allows for better quality and resistance to external agents, such as strong chemicals and premature oxidation. Thanks to the steel plating, these compact washers boast a long lifespan and reliable performance.
Industrial Components in a Small Business Package
Fagor's compact washing machines use bearings, bearing supports, and motors that are equal to those used in their industrial machines. This allows these small machines to handle many loads without wearing down as fast as competitor compact washers.
Built-In Weighing Systems
With two weighing systems, Fagor's compact washers can handle large loads with no problem. One weight system measures the load that is being entered into the machine while the second one estimates which program would be best to not only safely clean the load, but also which program can provide you the best savings. Of course, the ultimate decision about which program is used is up to you.
Operates at 450 G of Force
Some Fagor equipment can produce as high as 450 G force to reduce the moisture within the articles of clothing, reducing drying times and protecting your linens.
Fagor's Compact Dryers
Looking for the perfect complement to your new compact washer? Look no further – Fagor's compact dryer is the professional machine you have been waiting for. While smaller than the industrial tumble dryers, Fagor's compact dryers offer equally versatile and robust performance. Considering a Fagor compact dryer? Here is what you can expect:
Touch Controls
As with Fagor's compact washers, the compact dryers come with a TP2 touch screen. This allows you to create drying programs that are catered to your laundry needs. Alternatively, you can also choose from the 19 preset programs.
Reduced Drying Times
Whether you are using the 23.000 BTU/HR heating or the 15.000 BTU/HR option, you can expect your drying times to take less than 45 minutes.
Large Robust Door for Easy Loading
Fagor dryers are made with robust aluminum doors, providing a perfect seal while allowing you to easily load and unload your laundry into the dryer.
Stainless Steel Skinplating for a Sleek Look
Not only do these compact dryers look great, the skinplate stainless steel panels also allow for a longer lifespan and stronger performance.
Optimized Airflow
With an improved airflow design within the drum, increase the efficiency of each drying process. This helps completely rid your linens of moisture while protecting the material.
Lint Filter
Instead of being located in the door, the lint filter is located in a drawer. This helps improve the drying efficiency while making it more ergonomic and easier to clean.
These compact dryers come in three different line options:
Advance: Improved energy efficiency.
Concept: More affordable option that balances quality and price.
Economic Line: A simpler design with the same strong performance to produce a reliable machine without the bells and whistles.
Additional Laundry Options From Fagor: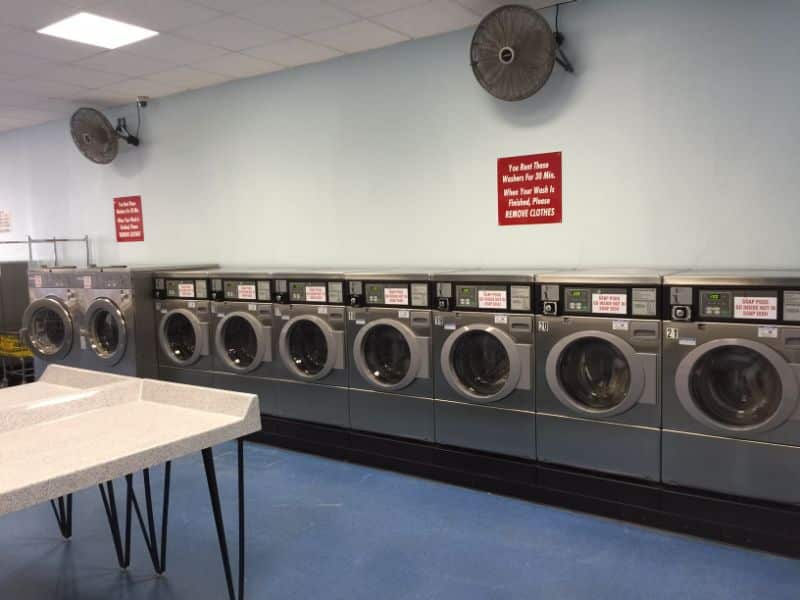 KRS Water Recovery System
The KRS water recovery system was built to save water, energy, and chemicals to help businesses recover their investment. This helps businesses save up to 70% on their water costs. These systems work by recycling the water used in the previous washing stages on that particular cycle. This helps save money on not only water but also on chemicals and the energy needed to heat the water.
Flatwork Ironers
The innovative design of the flatwork ironers allows users to minimize the effort it takes to iron linens and drying times for flatworks. It is simple to operate, has low maintenance, and is available at an affordable price. Thanks to their wall-mounted design, these machines take up little space, making them the perfect option for both large and small commercial laundry rooms.
For All of Your Vended or On-Premise Laundry Needs, There is Ed Brown Distributors
Ed Brown Distributors is proud to serve North Texas and Oklahoma for all of its vended laundry and On-Premise laundry needs. Our team is proud to work closely alongside Fagor, offering some of the best machines on the market to our clients. We are qualified not only to help install but also maintain your machines, ensuring that they can last with your business for a long time. Contact our team today for more information on our Fagor laundry machines or to set up an appointment to design your perfect commercial laundry room!