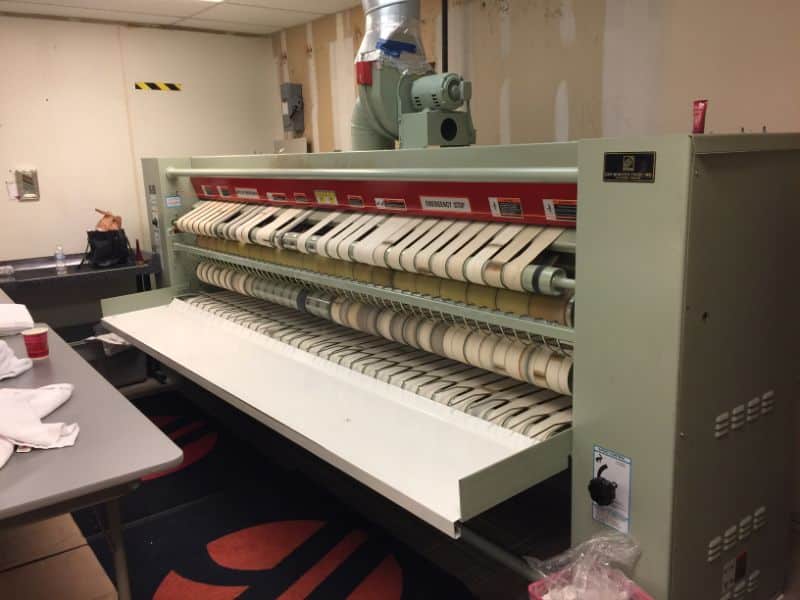 Product Brochures
Folder Installation Services for North Texas, Oklahoma, and Arkansas
Linen folders are crucial to commercial laundry because they ensure that all sheets, blankets, and other linens come out in pristine condition and uniform order. This helps keep up the high-quality standards for hospitality businesses such as hotels and resorts.
Ed Brown Distributors is proud to be a provider of folders from one of the top commercial laundry equipment manufacturers, FAGOR. Here is more information on these incredible machines and how they can help serve your business.
What Is a Commercial Laundry Folder?
Commercial laundry folders fold linens so they are free of unsightly creases and look good when put on a bed. Folders are ideal for businesses that need large linens, such as bedding, sheets, and blankets, to be folded neatly and quickly.
But folders aren't only good for healthcare hospitality businesses. Linen retailers can also make use of commercial laundry folders to fold apparel before shipping.
Why Should Your Business Invest In a Laundry Folding Machine?
For businesses such as hotels and nursing homes, having clean and fresh linens is essential. It helps set the tone for guests or patients and ensures their stay is comfortable.
According to a survey done by P&G Professional, the first thing hotel guests did when entering a room was check the bedsheets, towels, and room's overall cleanliness. If they found the room was in good condition, they felt more comfortable and like their trip was off to a good start.
What Kind of Laundry Folders Does Ed Brown Offer?
Ed Brown Distributors is proud to be a certified seller of FAGOR folders including the SMARTY folder. This popular folder can operate independently or be attached to the back of a Flatwork Ironer that has a back output.
SMARTY folders can handle a maximum of 900 to 1200 pieces of linen an hour. They have a vacuum work table to make feeding linens into the machine easy as well as a PLC microprocessor for automatic towel folding. Plus, they have display screens that show the progress of the linens being folded and alert users when a load is complete.
Don't Hesitate to Get Your Folder From Ed Brown Distributors
Increase your business's productivity, save money, and keep your guests comfortable with a commercial laundry folder from Ed Brown Distributors. Our team can help you find a perfect match for your laundry needs and install it for you. We also offer other commercial laundry services, including on-premise and vended laundry installation and repair services. Contact our team for more information or to schedule an appointment with one of our laundry specialists.