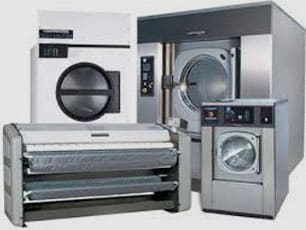 Product Brochures
Brands Ed Brown Distributors Proudly Offers
Ed Brown Distributors proudly serves commercial businesses with their On-Premise laundry or Vended Laundry needs in the North Texas and Oklahoma areas. We represent three of the largest brands of commercial laundry in the United States and these companies are Fagor, Continental Girbau, and Wascomat.
Here is more information on these amazing companies and what you can expect from investing in their commercial laundry equipment through Ed Brown Distributors.
Fagor Industrial Laundry; Innovation At Your Disposal
Ed Brown Distributors is the Fagor Laundry Equipment distributor for North Texas and Oklahoma. Fagor has been producing laundry equipment in Spain for over 40 years and has recently introduced its brand to the United States. It holds great promise for the industry. While being a robust performer, it offers superior programming over competitors at a reduced cost both in purchasing and operating expenses.
Fagor has a wide range of professional laundry products specially designed for small businesses and industrial laundries. Each of the machines comes at an affordable price, focuses on energy efficiency, and all come with a modern look that helps add a visual appeal to your machines.
Fagor Products Offered Through Ed Brown Distributors
Continental Girbau Commercial Laundry
Continental Girbau, also known as Girbau North America, manufactures high-quality and total laundry solutions for both Vended and On-Premise laundry commercial needs. All of their machines are energy-efficient, durable, and have unrivaled productivity. Their company's motto is, "Our Mission Is Your Success."
What sets Continental Girbau apart from the competition is that they are one of the leaders when it comes to innovative equipment. They engineer each of their machines to bolster throughput, maximize energy efficiency to ensure lower energy costs, and ensure the longevity of their machines to ensure their customers are taken care of for years to come. All of their machines are backed by impressive warranties and are made with environmentally friendly materials.
Continental Girbau Equipment Supported and Offered By Ed Brown Distributors
Other Brands We Offer
Ed brown Distributor also has partnered with the following brands to bring you incredible commercial laundry equipment that boasts of high-value and guarantee a return on your investment. These brands include the following:
Need Vended or On-Premise Commercial Laundry Equipment?
Ed Brown Distributors is proud to help serve North Texas and Oklahoma with all of their Vended Laundry and On-Premise laundry needs! Our team supports and represents some of the biggest names in the commercial laundry industry and can help you find the perfect equipment for your business. Contact us today for more information or to schedule an appointment with our sales team!
Additional Resources: