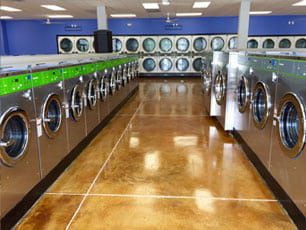 North Texas and Oklahoma Industries That Can Benefit From Commercial Laundry Units
Many industries around the world rely on having reliable laundry equipment and repair services to support their daily operations. From restaurants to healthcare, linens and even clean personal protective equipment can make or break a business day when they are not readily available.
While some businesses may rely on outside services for their laundry needs, owning your commercial laundry units or even investing in newer equipment can help improve efficiency and bring down costs for your business. Wondering if your business could benefit from an On-Premise laundry unit or even owning Vended Laundry machines? Here is an extensive list of industries that the team at Ed Brown Distributors has proudly served.
Hospitality OPL and Commercial Laundry Equipment and Services
Hotels, motels, and even restaurants make use of a lot of linen throughout the day. From cloth napkins to bed sheets and towels, these items are essential to the flow of business throughout the day and the comfort of the guests. While vended and coin-operated laundry may be a useful tool to help create some extra revenue for long-stay guests in hotels and even motels, it may not be the best solution for every business.
However, on-premise commercial laundry units can present many benefits, such as ensuring that your business has important articles when you need them, keeping a set of fresh items on hand daily, and helping cut down on outside costs of shipping out items.
No matter how big your commercial building is or the amount of laundry your business needs to do throughout the day, the dedicated team of laundry technicians at Ed Brown Distributors can help you find the perfect units. We offer full installation and design services to ensure that your business's laundry room is set up for ease of workflow and improves efficiency.
Healthcare Laundry and Linen Equipment
On-premise commercial laundry equipment is a must-have in the healthcare field. Not only to ensure the cleanliness and sanitation of the guest's linens but to keep illnesses from spreading by keeping up with the ever-increasing needs. When you invest in commercial laundry equipment for commercial healthcare businesses, (or even private), you will want units that can handle a large load constantly and be reliable.
Ed Brown Distributors offers specialized laundry solutions for all healthcare businesses. We do this by listening to your business's unique needs and then coming up with reliable solutions to make sure you have what you need when you need it. Our machines are designed for energy efficiency, faster throughput, and to help bring down the costs of labor.
OPL for Athletics
Athletic departments can benefit from on-premise laundry when it comes to professional, college, high school, and middle school sports teams. Ed Brown Distributors knows the perfect laundry solutions for all athletic programs, including for health clubs and gyms.
We offer a wide variety of machines that help get rid of tough stains, thoroughly remove odor, and protect the uniforms/linen by removing excess moisture through our washer-extractors. This helps ensure that dry times are shorter and that the graphics on uniforms are protected.
Fire Department and Government Agencies Commercial Laundry Equipment
Ed Brown Distributors is proud to serve both firefighters and county/local government agencies of North Texas and Oklahoma with all of their On-Premise commercial laundry needs. We work closely with these groups to determine which equipment will best meet their needs. These machines are designed to work hard and strong, but also quietly, to ensure that these teams can focus on what matters the most, which is the job in front of them.
Our washer-extractors help remove excess moisture from Personal Protection Equipment, sanitizing and increasing life expectancy. Our equipment can be programmed to meet NFPA 1851 standards.
Vended and Coin-Operated Laundry Units for Colleges and Multi-Family Housing
Vended and Coin-Operated Laundry has unique requirements to help ensure that customers can get their laundry done quickly and efficiently. At Ed Brown Distributors, we offer high-quality equipment that will maximize throughput and energy efficiency, allowing your business to see more guests at a lower cost to the owner. Contact our sales team today for more information about our Vended and Coin Op Laundry options for apartment buildings and schools.
Full List of Industries That Ed Brown Distributors Proudly Serves:
Looking For Commercial Laundry Solutions for Your Business?
Ed Brown Distributors is dedicated to helping commercial businesses find their perfect laundry solutions. Whether through Vended and Coin Operated Laundry options for apartments and colleges or On-Premise laundry units for hospitality and healthcare businesses, you can trust that our teams have the perfect equipment.
We offer both top-loading and front-loading equipment, and even stackable units to help preserve space. Contact our team today for more information on our commercial laundry machine installation and repair services!
Additional Resources: