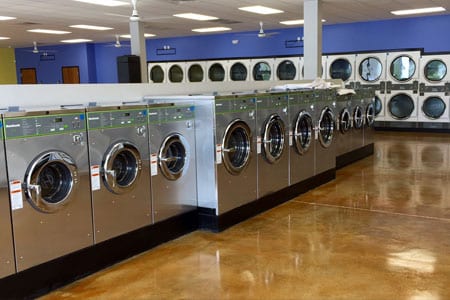 Product Brochures
On-Premise and Industrial Laundry Equipment
On-Premise laundry is a critical aspect for many commercial businesses that deal heavily in the care of their laundry for their customers. Whether it is a college dormitory, hospital, hotel, or nursing home, having reliable laundry equipment is vital to keeping your customers happy and healthy.
Our staff of On-Premise Laundry experts will help you choose the right types of machines and laundry design to ensure a seamless workspace for boosted productivity.
These are the products that Ed Brown Distributors proudly represents and sells.
Fagor On-Premise Commercial Laundry
Ed Brown Distributors is the Fagor Laundry Equipment distributor for North Texas and Oklahoma. Fagor has been producing laundry equipment for Spain for over 40 years and has recently introduced the Fagor brand to the United States.
Fagor has been producing laundry equipment for other manufacturers in the U.S. for many years.  This company holds great promise for the laundry industry as their machines make use of the latest advancements to help reduce overall costs in labor and energy usage.
Ed Brown Distributors proudly offers a wide range of Fagor products for both industrial laundries and small businesses to choose from. Each of these machines comes with a variety of features standard that is optional on other manufacturers' equipment, all at an affordable price.
While focusing on optimizing energy efficiency, all equipment is "state of the art" when it comes to technology and features. Here is more information on the wonderful products from Fagor:
Compact Washers: Fagor's compact washers are known for their touch plus control which allows businesses to set this powerful little washer to run exactly as they need it. This helps control water usage, run time, and extractor speed so that the only energy that is being used is what is needed.
Softmount Washer-Extractors: Perfect for locations such as the second floor of a commercial building, where having a solid foundation for the machine is not an option. Boasts high performance and low installation costs.  Fagor softmounts extract up to 450 G-force.
Hardmount Washer-Extractors: This washer extractor features an included 200 G-force extraction speeds, reducing drying times and increasing the speed at which laundry can be done. Up to 300 G-force extraction models are also available.
Flatwork Finishers: These full line easy-to-use, industrial ironing equipment, and finishers are designed to cut down on time, and labor, and help boost energy saving in hotels, nursing homes, hospitals, and other businesses that use On-Premise laundries.
Commercial Washers: Fagor's commercial washers are available with a wide variety of options and multiple sizes in both soft mount and hard mount options.  Fire gear programs, sports laundry programs, one of the highest G-force washers on the market, and chemical injection options that are available on all models and sizes of equipment.
Kare Generation Dryers: These dryers offer amazing energy efficiency and are one of the most advanced dryers on the market. These dryers can come in a wide range of different sizes such as stackable dryers or single drum dryers. All dryers are reversing and have stainless steel lint screens.
Continental Girbau Coin Operated and Vended Laundry Equipment
Continental Girbau North America offers incredible Coin-Operated and Vended Laundry equipment to help businesses improve their energy efficiency. Their machines are also incredibly durable and robust, leading to an increased lifespan that ensures long-lasting results. Here are the Continental machines that are available through Ed Brown Distributors.
E-Series Washer-Extractors: Specifically designed to drive down water, electrical, and gas costs, these machines boast amazing energy efficiency while boosting productivity. They are easy-to-install freestanding washers that are perfect for second and third-floor installation when no solid foundation can be used. There are a ton of different sizes and models to choose from, making it one of the most flexible commercial washer brands on the market.
G-Flex Hard-Mount Commercial Washers: One of the most advanced hard-mount washers in the industry, they can generate an impressive 200 G-force speed. They also boast programmable controls, allowing you to better gear the washer's cycles to better suit your business's needs. Superior results for less energy.
REM-Series Hard-Mount Front-Load Commercial Washers: This 25 -pound capacity Rem Series Washer-Extractor delivers superior high-performance for smaller commercial businesses. This machine will help boost productivity, lengthen the life of the linens, and help decrease utility costs.
LG Commercial Washers: With five different types of washers in the series, LG Commercial washers were designed to give control to commercial businesses. They are known for their easy programmability and allow users to simply select which wash option they want, add the detergent, and start. With a different set of wash times and even programmable rinsing times, you can set the washer to work around your business's schedule.
Econ-O-Wash: Ideal for smaller commercial businesses, this top load commercial washer helps cut down on water usage. It is extremely durable, allowing businesses to get a long life span out of it, no matter how many cycles it needs to complete.
E-Series Commercial Dryers: Continental Girbau's E-series dryers are characterized by their oversized door and dryer window, allowing users to look in. These dryers are easy to use and energy-efficient. They can hold up to a 25-pound load and are a perfect choice for smaller commercial businesses that need on-premise laundry.
LG Commercial Dryers: The LG Commercial dryer was made with usability in mind. It features a control panel to digitally display the cycle, showing you where it is at and how much longer it needs to run. It also has an LED light to indicate the cycle status and different fabric options.
Econ-O-Dry: These dryers work well with the Econ-O-Wash as they are both top loading machines. They are easy to use and incredibly fast, leading to better productivity.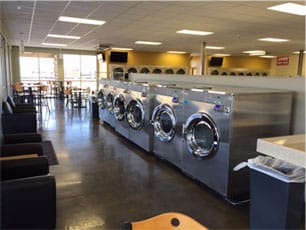 Need Help Finding the Perfect Commercial Laundry Equipment for Your Business?
Efficiency is the name of the game in commercial laundry and you can count on your dedicated Ed Brown Distributors team to help you find the perfect solutions for your business's needs.
Whether you are looking for a small washer or a powerful dryer that can cut down energy costs, we have what you are looking for. Contact us today for more information on any of these products or to schedule an appointment.