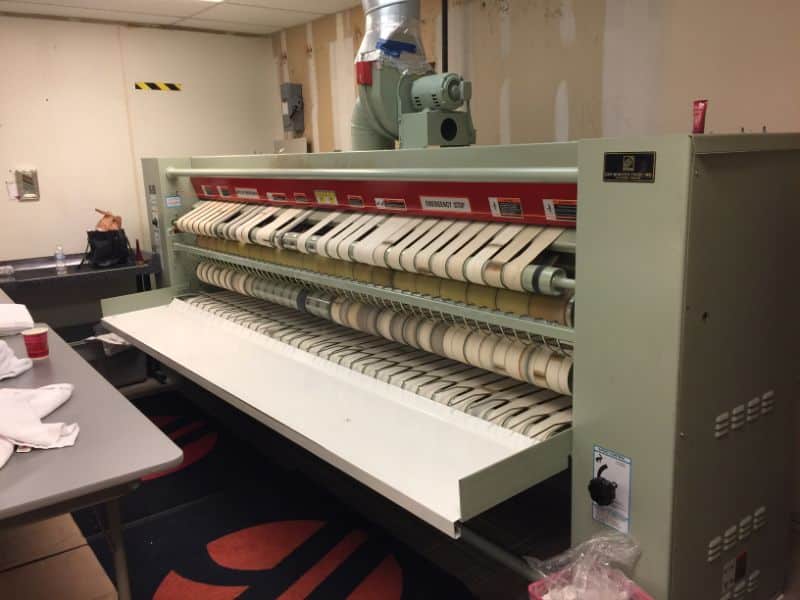 Product Brochures
High-Quality Flatwork Ironers and Folders From Chicago
Clean laundry doesn't just stop when the final drying cycle stops. All hospitality, healthcare, and assisted living facilities agree that guests and patients feel more confident when their sheets and linens are neat.
Ed Brown Distributors is proud to offer the innovative and reliable design of Chicago's On-Premise Laundry Flatwork Ironers and Folders. These machines help ensure that all pieces of linens are properly ironed and folded while helping to reduce labor costs and process times. Here is more information about these incredible machines:
History of Chicago Flatwork Ironers and Folders
Chicago specializes in commercial laundry finishing systems. Their manufacturing and design team used their technical expertise to produce innovative, high-quality, and powerful machines. Every machine is designed with energy and labor efficiency in mind.
Starting out, Chicago created state-of-the-art cabinet dryers and wooden washers. As their business continued to expand, they moved to building copper and steel washers, dryers, and accessories to aid commercial laundry units. After World War II, Chicago shifted its focus to flatwork finishing equipment, as the need for better machines was paramount. With over 100 years of experience, the world's finest and widest range of separating, feeding, ironing, folding, and linen finishing machines in the industry was developed.
Chicago Products Offered Through Ed Brown Distributors
Chicago's Cascade®
Chicago's Cascade® boasts a high volume capacity and fast linen separation. It can handle small to large size loads, and can be loaded manually or through a conveyor system. With an incredible pick rate of more than 1,600 cycles per hour, your employees can easily and effortlessly increase the output.
Feeders
Led by industry-changing Edge cornerless technology, Chicago's feeder line provides accurate automated high-volume presenting of sheets and table linen into a flatwork ironer or folding equipment. Here are the different types they have available:
Genesis Automatic Towel Machine: Automatically pick and feed towels of multiple sizes into a sorting towel folder.
Edge Series: The world's first cornerless spreader/feeder that offers ergonomic, labor-saving solutions for high volume presentation of sheets, table linens, and other larger pieces into a flatwork ironer or folding equipment.

Edge Tri-Max: The newest addition to the Edge series that boasts a three-station high output model for even greater throughput.
Edge Maxx CT: The fastest laundry feeder of the Edge family that is a perfect mix of performance and simplicity.
Edge: An automatic spreading and feeding equipment line that offers labor-saving laundry solutions for the accurate high volume presentation of sheets and table linens into a flatwork ironer or folding equipment.

King Edge Series: With all the advantages of the original Edge, the King Edge series adds several speed and convenience features, such as a two-target loading system.

King Edge CT: A cornerless flatwork feeder that has a "two-target" loading system, auto-lift operation, and built-in small piece bypass conveyor.
King Edge VAC CT: Features a linen feeding system that uses a vacuum chamber for a laydown method that results in world-class finished linens.
Turbo King Edge VAC CT: High-performance spreader-feeder with a faster vacuum laydown for optimal linen presentation.

Spreader/Feeders:Chicago offers spreaders and feeders that have been designed to handle the unique demands of commercial laundry.

SkyFeed: Combines engineering excellence and the forces of gravity to create a spreader feeder that optimizes operator potential for great productivity.
Flex-Feed: A versatile and compact two-station linen spreader feeder with a built-in vacuum laydown system for hand-fed items.
FasTrack: Designed with a four-station clip feeder for high volume spreading and feeding of sheets into a high production flatwork ironer/folder.
O.P.L.: Compact, fast, and ergonomically built-in laundry spreader feeder designed to keep up with the power and speed of Chicago's Ironers and Folders

Feeding Aids: perfect for high-quality feeding of both small and larger pieces of linens when space is limited

Rapid Feed CT: A powerful and compact vacuum feeder that produces top-quality leading and trailing edges with less operator effort.
Rollerfeed: An economical feeding aid that allows one individual to feed large items such as sheets into a Laser Line, Tri-Star, or CrosStar ironer/folder.
Easi-Feed II: Improves the finished quality of large and small linens for businesses wanting the highest possible quality finish.
Flatwork Ironers
Chicago offers an impressive line-up of on-premise laundry ironing solutions. This innovative technology can be run off of gas, thermal fluid, steam, and electric heating. They offer a wide range of diameters to meet the linen lengths and sizes of your business's needs.
Small Ironers: Chicago's compact ironers are perfect for businesses that have smaller pieces of linens that still need to look their best. This line includes the following:

Cadet
Comet Executive
Breeze

Mid-Range Laser Series Ironers: One of the most powerful ironers for its size, these flatwork ironers offer twice as much drying power as models with atmospheric burners. This line includes the following:

Laser Line
Laser + Series

Imperial Series Ironers: Imperial ironers are the most productive and largest diameter single roll ironers available on the market. These include the following models:

Imperial – 1 Roll
Imperial – 2 Roll
Presstige

Multi-Roll Modular Ironers: Delivers high-speed transfer of heat to the linens for maximum productivity. They are perfect for high-production flatwork finishing systems that require a high-production ironer that is efficient, dependable, and safe. This line includes:

Century
Powerhouse Hi*Q
Powerhouse
Titan
Folders
Chicago's folding line of folding equipment is designed to fold everything as neatly and quickly as possible to help reduce labor costs. They have three sizes of machines available:
Small Folders: Tumble dried products will come out looking sleek in the small piece french folders. These are perfect for towels, aprons, pads, and airline blankets.

Air Chicago Elite
Air Chicago Elite XL/XXL
Air Chicago Quattro
Versa

Large Piece: The large pieces offer high-speed folding, cross folding, and stacking models which are perfect for high production plants and hotel laundries.

Skyline Blanket CT
Skyline CT
Blanket Blaster Series
Skyline Mini CT

Small Piece Accumulation: Specializes in folding or stacking small pieces of linens, such as napkins, pillowcases, and aprons.

ATM2
Skyline SP CT
Aircumulator Trio
Aircumulator Solo
Coursell
Flipper CT
Need Help Deciding Which Pieces Are Best For Your On-Premise Laundry Needs?
Ed Brown Distributors proudly serves the communities of North Texas and Oklahoma with all of their on-premise laundry needs. Our team is proud to be a certified distributor of Chicago and can help you find the perfect machine for your business's folding and ironing needs. Once the selection is made, our team can help you install and then keep up with the maintenance of your new Chicago Flatwork Ironers and Folders. Contact our team today for more information about Chicago or to schedule an appointment with one of our On-Premise Laundry Specialists.